Steel Shed Homes
Steel Shed Homes | Steel Sheds by Superior Garages
Need a good shed design that looks great for your home or business? Superior Garages & Industrial's offers practical solutions to all your shed requirements. We have shed designs that can be customized to your individual needs, whilst still looking fantastic.
Steel Sheds
Below are some of the ways your shed design can be customised. We can also implement some features that will add to your shed's value.
Large Sliding or Rolling Shed Doors
A large Roller door can give great access to a shed. These can be used for moving vehicles into the shed for storage or act as an access area for incoming and outgoing stock in industrial designs. Alternatively, these large roller doors can be opened on warm days allowing great ventilation in your shed and fresh air for your workspace.
All shed designs can also be customised to match any style you want. The shed designs could be contemporary or modern. For instance, a working farm might want a traditional barn door appearance whilst an ecommerce business might prefer a modern, sleek sliding design.
Depending on the size of your shed, there are many options for how to operate the door. Traditional, sliding, roller shutter and bifold shed doors are just a few of the options available. Each of these designs offer different advantages, depending on your requirements as to which style we implement for your shed build.
Shed Windows – Large or Small
Using the shed as an office space, a workshop, an information kiosk, shop front or a guest room at a residential property? You will want to allow appropriate lighting and ventilation
There are a large variety of options. Windows are a simple and easy way to add style and practicality to your shed. Imagine a modern shed design acting as a shop front, built with large display windows or just an office with traditional four panelled windows.
Large glass sections can be used in display settings to allow full view of your showroom or stock while still protecting it from the elements. Utilising tinted glass can provide additional UV protection for your showroom.
Custom Designed Sheds – Shape and Style
Want something a little bit unique? You can look at custom designing your shed with our in-house engineer. We are based on the Sunshine Coast and can offer you great advice on your new shed build. Curved walls, wooden features, or additional stories, whatever you can imagine we can work with you to make it a reality. These additions are stylish and can add practicality and value to your shed build.
If you have other buildings that you would like to match with we can customize your shed design to fit any existing style. This will ensure that your new custom shed build never looks out of place.
Shed Colours
No matter your requirements, colour is a very important aspect of any design. Whether you would like to blend in with existing structures or to make your shed stand out from your competitors. We can offer a large variety of colours to create a design that blends in seamlessly with its surroundings, or that will make it impossible to pass your business unnoticed. There are many practical implications for customizing the colour of your shed.
Even residential owners looking for a backyard shed can customise the colour for a stylish finish that will make your shed look right at home on your property.
---
How Will You Customise Your Steel Shed Design?
Looking to add a little style to your property with a Customized shed design? Customised Sheds are a useful addition to any backyard or property with a large range of uses that can make them a practical and attractive investment for any home or business. There are many ways a shed can be customised, from the size and style of your doors, placement and shape of windows, to the external colour that means your shed will look unique.
Do you want a stylish shed on your property? Are you looking for a shed that's one-of-kind?
Then speak to a member of our team about how we can help you.
Contact us Here and we will be happy to help you with any questions or queries you may have.
---
STEEL SHEDS
Looking to build a Steel Shed on the Sunshine Coast?
SGI have been building steel sheds, garages and carports on the Sunshine Coast for more than 30 years. We are proud in the fact that a large percentage of our new projects are referred to us by our previous clients or are previous clients returning for a new product, or looking to extend their first.
We stand by the fact that to produce a quality building of any shape or size, quality is essential in 3 main areas…
Structural design and integrity (specialised in-house engineering)
Quality of all building materials (genuine Australian steel and Colorbond)
Construction workmanship (Professional builders and contractors)
Our in-house shed design and engineering service allows for creative, functional and cost effective solutions.
---
Residential Steel Shed Homes
SGI has successfully delivered a wide variety of residential projects working closely with owner builders, builders and architects who realise the benefits of using pre-fabricated building systems to suit specialised shed designs.
When we work we believe that a construction site should be more a place of assembly whilst the fabrication of shed components takes place in the controlled environment of a factory, where they can then be delivered to site, ready for rapid on-site assembly.
Building a steel shed has many positive attributes…
Strength
Design freedom for your Shed project
Building your shed is fast, efficient and resourceful
Space creation
Aesthetically pleasing and functional
Endlessly recyclable
Factory fabrication enables specific tolerances, increased speed of construction and reduced waste. Additionally Work Place Health & Safety risk is reduced whilst weather and other variables have less of an impact on the overall shed building process.
SGI utilises 5D (BIM) Building Information Modelling providing 3D structural models which can be viewed by all relevant parties including key contractors. This technology is used on-site through the use of tablets and laptops so key contractors are always up to date with the latest models and information concerning each project.
---
Steel Shed Homes – We've Built
Whyatt Shed House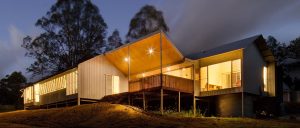 Cooroy & Kin Kin Steel Shed Houses
---
Testimonials
Q: What was the main reason you chose SGI?
A: I felt your price was fair but more so Paul's Process, Knowledge and attitude gave me confidence. Unlike other companies, I had the option of designing what I wanted rather than just what they made or their engineers were used to signing off.
~Brady Sullivan
We wish to thank you for the best service we have ever had regarding the shed at Traveston, your workmen on the job had great manners and personalities, there workmanship is perfect. We will forever spread the word about your company and employees.
Once again, we thank you.
~Julie and Wally Vojanic
After working out what I needed in a shed, I set out to research shed builders on the Sunshine Coast.  Of The six manufacturers / builders that I called, two failed to bother to quote and the other four were very similarly priced. After narrowing it down to two contenders by the service I received, it became clear that Superior Garages was the one for the job as Paul and Jeremy were able to confidently and honestly provide the answers to all my questions. They designed a shed that would suit my needs at the right price.
The whole process from quoting to completion was easy and painless, their concreters and the builders are the best in the business and took great pride in their work. The end result is a great quality shed at a competitive price.
I can't speak highly enough of these guys, they are excellent to deal with, and each one of them is very good at what they do.
I wouldn't hesitate to use Superior Garages again, and I can totally recommend them to anyone who wants a quality product and excellent service.
~Paul Hume, Glenview
---
We believe that communication and understanding are paramount to ensuring your goals, needs and final project outcome meets all your expectations.
For all your Shed Building requirements, please contact one of our team on (07) 5437 7022 , or email us at info@www.superiorgarages.com
Only the highest quality genuine Australian steel products are used in any of our buildings. Combining this with a professional
and experienced team will ensure the final product upon completing your project meets all your expectations.We operate under the name that says it all, Vision Designs Pty Ltd trading as Superior Garages & Industrials. We are
BSA medium rise licensed Builders (Licence no. 1145350). ABN 56 472 105 763