[vc_row][vc_column width="1/1″][background_block bgimage="5297″ bgcolor="#00adee" opacity="0.4″ contentcolorclass="light-on-dark" parallax="enabled" parspeed="4″ ptop="120″ btwidth="0″ btcolor="#44576a" bbwidth="0″ bbcolor="#44576a"][vc_column_text]
Bluescope Lysaght 
PREMIUM STEEL BUILDING PRODUCTS
[/vc_column_text][/vc_column][/vc_row][vc_row][vc_column width="1/1″][background_block bgcolor="#ffffff" opacity="1.0″ contentcolorclass="dark-on-light" parallax="disabled" parspeed="8″ ptop="100″ btwidth="0″ btcolor="#44576a" bbwidth="0″ bbcolor="#44576a"][/vc_column][/vc_row][vc_row][vc_column width="1/6″][/vc_column][vc_column width="2/3″][vc_column_text]Bluescope LYSAGHT® are a trusted name in Australian steel with a reputation for producing steel products of the highest quality. LYSAGHT® have one of Australia's largest range of  premium steel building products for both Architectural and structural applications.
LYSAGHT® guarantee all steel building products they manufacture are 100% Australian made steel.
All LYSAGHT® building products are manufactured from exclusive quality products such as COLORBOND® Steel. These products have undergone extensive testing and are specifically designed to suit Australian architectural style and Australian climates.
For these reasons Superior Garages & Industrials support those who supply and use LYSAGHT® building products for our entire range of custom designed sheds, garages, carports and houses.[/vc_column_text][/vc_column][vc_column width="1/6″][/vc_column][/vc_row][vc_row][vc_column width="1/6″][/vc_column][vc_column width="2/3″][vc_column_text]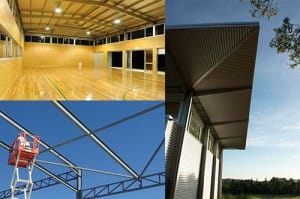 [/vc_column_text][/vc_column][vc_column width="1/6″][/vc_column][/vc_row]