High-Quality Carports on the Sunshine Coast
Custom Designed Carport Sheds on the Sunshine Coast
Protect your vehicles, trailers and boats from the harsh Sunshine Coast sun.
Get a custom-designed, superior-quality carport from Superior Garages and Industrials!
Australian Steel Carports
Affordable, Locally-Made Carports
Do you need a carport on the Sunshine Coast? Choose from a selection of quality steel materials in various colours and designs, ensuring that your new carport looks effortlessly great with preexisting fixtures.

A carport is an easy, low-cost and effective way to protect vehicles, boats, motorcycles and other outside motorised equipment or items. A carport doesn't require much maintenance, leaving you with very little to worry about after installation has taken place. You can maintain the value of expensive vehicles and equipment without having to outlay much after the initial investment.
Paint damage is the biggest contributor to the fast depreciation of the value of your vehicle. The hot Sunshine Coast sun, salt air, and other environmental conditions can cause significant damage to your car, boat, or motorcycle. As a result, the paint fades or completely peels, leaving it exposed to rust and further damage.
Whether you need a lot of space for vehicle collection, or a small extension to protect your boat or motorcycle, our in-house engineers custom design and create the perfect carport for your location, budget and requirements. Unsure about what you need? Simply choose a carport from our huge portfolio for a quick and stress-free process. Once a design has been finalised and materials fabricated, our fully qualified team will begin constructing your new carport!
Choose Our Custom Carports
Built with only the best, locally sourced, high-grade Australian steel, our sheds are made to stand the test of time – and the Sunshine Coast's hot and temperate climate. Our professional and experienced team will take each of your needs and concerns into account when designing your shed and can incorporate a vast range of customisation options, such as adjacent bays, roller doors, and colour coordination to suit any existing buildings.
Sunshine Coast Carports, Garages and Sheds
Industrial And Commercial Carports
We offer a wide selection of industrial and commercial carport options, ensuring your choices are never limited. With numerous great applications in your workplace, carports are perfect for loading bays, display centres, truck storage and washing bays. Creating well ventilated, shaded and weather protected workplaces for employees and storage space for machinery and vehicles, can be a costly process. This makes it a daunting task for business owners needing more space to grow and increase workflow.
Australian Steel Products
Our Carports Are Built Tough
Big or small, long or tall, Superior Garages and Industrials can do it all. Our steel carports are custom designed to suit your businesses needs. With a wide range of options, quality materials and experienced fully qualified workers, why wait? Start designing your own carport giving you the space you need to grow.
If you are interested in building a residential, industrial or commercial carport build on the Sunshine Coast, SGI would love to help you create the design that is right for you and bringing those designs into reality.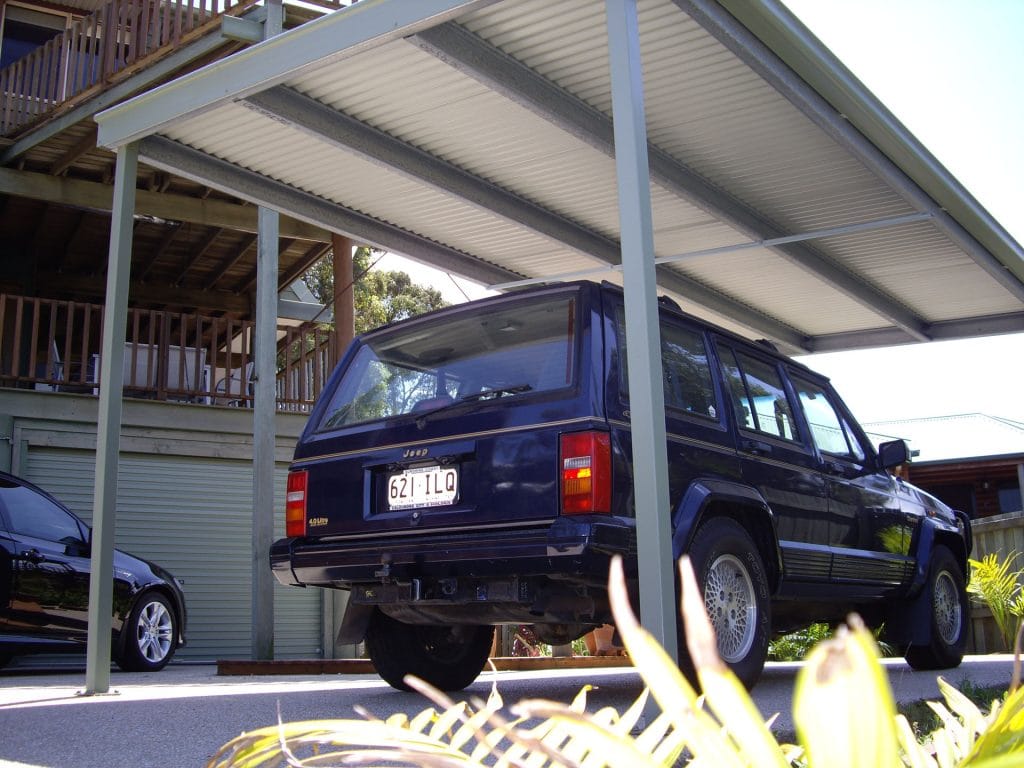 Affordable, Local Carport Builder
With attention to detail, we can create the highest quality structure that will stand against the test of time, while keeping costs low and construction times to a minimum. The efficiency of our construction creates drastically fewer interruptions and less downtime for your business.
When compared to timber expansions, which are expensive and take a long time to build, it is apparent that steel carports are the most cost effective alternative for expanding your business.
Choose SGI for Your Shed Needs
Get a Quote
Don't delay your shed build - get in touch with us today for a fully personalised quote!