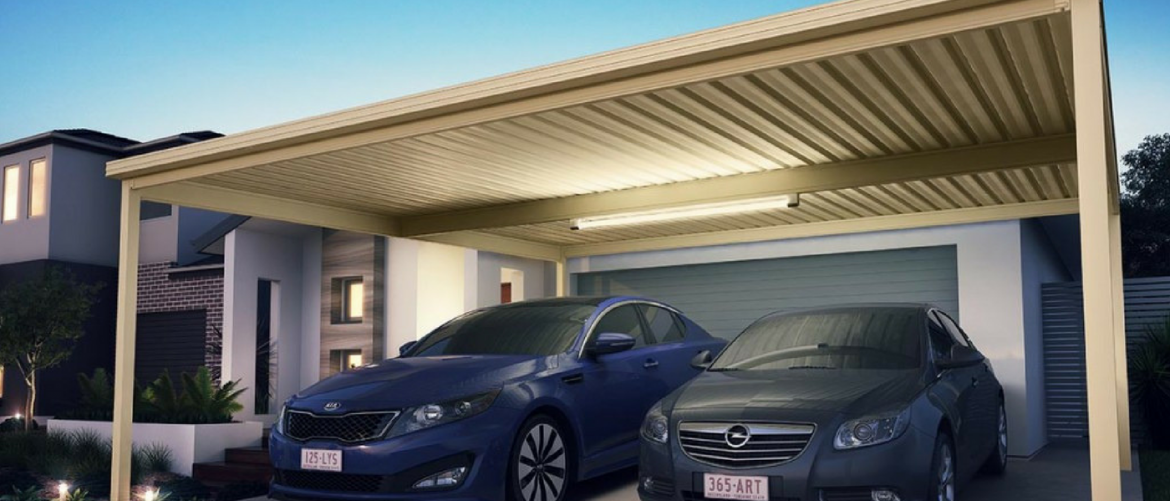 Carports Sunshine Coast – Protect your Vehicle. We spend a lot of money on our cars, boats and motorcycles, Protect its paint and your investment with a Carport.
Residential Carports
Paint job damage is a huge contributor to the fast depreciation of your vehicles value. The hot Sunshine Coast Sun along with salt air and the occasional present from passing birds can do serious damage to your car, boat or motorcycle. Causing paint to fade or completely peel leaving you vulnerable to rust and further damage. Carports are a cost-effective, quick solution to this problem providing protection from the elements.
Superior Garages and Industrials can custom design a Carport to suit any needs and any style. Whether you need a lot of space for your vehicle collection. Or just a small extension to protect your boat or motorcycle. Our in-house engineer can create the perfect Carport for your location and requirements. On the other hand, If you just want to make things Quick and Stress-Free you can simply choose a carport from our huge portfolio for a quick turn around. Once a design has been finalized and materials fabricated. Our Fully Qualified team will commence construction of your new carport.


Carports Sunshine Coast – The Design (Above) by Superior Garages & Industrials matches in perfectly with the existing colour scheme, Creating a seamless addition to the existing residence.
Industrial And Commercial Carports Sunshine Coast
We offer a wide selection of Industrial and Commercial options. Ensuring your choices are never limited. Perfect for Loading Bays, Display Centres, Truck Storage and Washing Bays. There are numerous great applications for carports in your workplace. To create well ventilated, shaded and weather protected workplaces for employees. Or storage space for machinery and vehicles. Expanding your usable workspace can be a costly process, making it a daunting task for business owners needing more space to grow and increase workflow.
With a Carport Extension, we can create durable constructs that will uphold against the test of time. While keeping costs down and construction times to a minimum. The efficiency of construction creates drastically fewer interruptions and less downtime for your business. When compared to Woodframed extensions. Which are costly with lengthy build timelines. It becomes clear that a Steel Carport is the most economical option for expanding your workplace.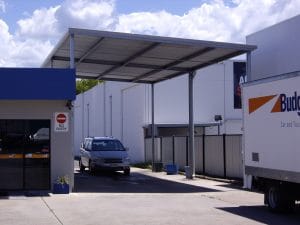 This Recent Carport Build (Right) by Superior Garages and Industrials was designed for a local Vehicle Hire Company. Providing an easily accessible vehicle bay to wash and service the vehicles. Built on extended supports to allow for the larger vehicles. This Carport has been a great addition for the business, expanding their workspace. Whilst not being a big hit for their profit margins.
Big or Small, Long or Tall, Superior Garages and Industrials can create any size or shape. Steel Carports custom designed to suit your businesses needs. With Quality Materials and Experienced fully qualified workers. Why wait? Start designing your own Industrial or Commercial Carport and allow your business the space it needs to grow.
If you are interested in commencing either a Residential, Industrial or Commercial Carport build on the Sunshine Coast. Then Superior Garages and Industrials would love to help you create the design that is right for you and bringing those designs into reality.
For More ideas on carport designs Visit our Carport Gallery Here or visit our showroom in Warana. To Contact us with Questions about your own Carport build, Message us Here or call on (07) 5437 7022. We look forward to answering your questions and working with you to help create the perfect space for you, whether its to protect your personal Vehicles or Expand your workspace.